WE OFFER A VARIETY OF CREATIVE SERVICES TO SUIT YOUR NEEDS.
Designing catalogues, brochure or print marketing ad campaigns, we've got the experience and talent to create the best for your business.
Having a trained eye means knowing what it takes to use the proper typeface, color and images for the greatest and most memorable experience. Our design capabilities make you look the best you can be.
Whether it's online or in print, we've got this.
When it's time to blast off your promotions to the world and specifically your market share, we make custom communications designed to have impact and response so you see a difference in the growth of your business. It can be designing an ad campaign to run in your industries trade magazines or using the right SEO that sends your online Google or Facebook ads directly to your website's front door.
It's what we do.
Developing a online presence takes more than just throwing up a website. It takes analyzing what your purpose for having a site up first and then researching how to reach your market effectively so your customers will respond. Not all websites are created equal so we create custom sites to meet your needs.
Let's face it, most visitors only spend between 5-10 seconds on a site before clicking to the next window. We create dynamic landing pages that make your visitors want more information and go deeper into your site. Don't forget about Optimizing for the Search Engines, Google likes a well made site with plenty of keywords and key phrases for which enable your customers to find you.
We also make you king of the social media crowd by sharing you to the world via Facebook, Google+, LinkedIn, Twitter and more.
Video presentations take your message to another level and gives you a chance to put a little sizzle on the table about your service or product. It can be as short as 2 minutes, but that 2 minutes can "wow" your customers into clicking on the contact form or picking up the phone.
Videos have been on the rise for some time now, so maybe it's something you might want to discuss with us and really light a fire under your promotions.
The Right Tools For The Right Solution. Every Time.
The Right Tools. The Right Solution.
Our tool box is full of creativity which means we always take a fresh look at the project in front of us. If it's an online problem, we create an online solution…and so forth.
Social Media. We're Ready to Share.
The digital community is a very sharing community. We understand how to blast your message out to all the social platforms making you socially acceptable immediately.
The Right Words. The "Key" Content.
Filling up your page with content is easy enough, but how about content that works overtime for you across the social media scene. That's where our expertise comes in.
Avenues To Help Your Business Excel
Responsive Design Websites.
They look good anywhere on any device. Desktop. Laptop. Tablet. Mobile.
Pay-Per-Click Campaigns
We can create effective PPC campaigns giving you the ROI you want.
eMail Campaigns
Effective eBlasts create new customers you can promote to regularly.
Attention-Getting Videos
One well executed video can go viral and shoot your business skyward.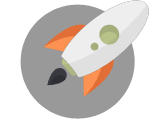 We're Here To Help Your Business Blast Off!
Through Creative Ideas, Innovation & Sheer Determination